Jane Turner

Turner in character as Kath Day-Knight at the première of Kath & Kimderella in September 2012

Born

Jane Turner
December 1, 1960
Newcastle, New South Wales, Australia

Occupation

Actress
Writer
Comedienne

Years Active

1983 - Present

Known For

Kath & Kim
Prisoner
Flash Forward
Big Girls Blouse

Spouse

John Denton (19??-Present)

Children

3 (Rupert, Nicholas and Anna)
Jane Turner (born on December 1, 1960) is an Australian Actress, Comedienne and Logie Award winning comedy writer. Best known for her work with long time comedy partner Gina Riley including Kath & Kim.
Early Career
Edit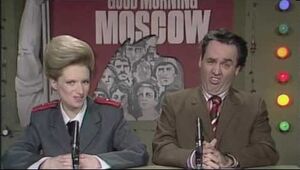 Throughout her career, Turner has appeared in many popular Australian TV programs. Her first TV appearance was in a straight acting role as Belinda Johns in 15 episodes of Prisoner. In 1987 she joined the cast of The D Generation, she went on to have writing credits on 5 episodes. Her next big appearence was on the highly successful, multi-award winning sketch show Fast Forward, which also featured Magda Szubanski, Gina Riley, Marg Downey and Glenn Robbins who would all go on to star together in future projects.
Later Career
Edit
Following the success of Fast Forward came Full Frontal in which Turner would guest star in 6 episodes. In 1994, along with Riley and Szubanski, Turner created the short lived sketch show Big Girl's Blouse.
Kath & Kim
Edit
The characters of Kath, Kim and Sharon first appeared in Big Girl's Blouse in 1994/5 and later in Something Stupid in 1998. The skit was then developed into a full-series. Along with starring in the show, Turner also created, wrote and produced the show, along with her longtime friend and collaborator, Gina Riley. As well as the TV series there has been one telemovie and one theatrical movie.
Present Career
Edit
In 2015 Turner returned in a new sketch show entitled Open Slather. Open Slather saw the return of fellow cast Kath & Kim stars Riley, Szubanski, Robbins and Downey (Peter Hawsthorn also guest starred in 5 episodes)
Personal Life
Edit
Turner attended Sacré Cœur School in Glen Iris, Melbourne, and later studied Law at Monash University. She is married to lawyer John Denton and they have 3 children including model Anna Denton.
Selected Filmography
Edit
Television
Edit
Prisoner (1983-1984) - Belinda Johns

The D Generation (1987) - Various

Fast Forward (1989-1992) - Various

Full Frontal (1993) - Guest Performer

Big Girl's Blouse (1994) - Various

Something Stupid (1998) - Various

Kath & Kim- (2002-2007) - Kathleen 'Kath' Darleen Day Knight

Da Kath & Kim Code (2005) - Kathleen 'Kath' Darleen Day Knight

Open Slather (2015-) - Various

Film
Bachelor Girl (1987) - Vicki

The Bit Part (1987) - Actress in play

The Making of Nothing (1993) - Pasha

A Royal Commission Into the Australian Economy (1993) - Court Official / Paul Keating's Travel Agent

Lucinda, 31 (Short) (1995 - Violet

Thank God He Met Lizzie (1995) - Anne

Above the Dust Level (2000) - Christine

Guru Wayne (2002) - Sarg

Kath & Kimderella (2012) - Kathleen 'Kath' Darleen Day Knight